The FIU
The Vanuatu Financial Intelligence Unit was enacted in September 2000 and initially governed by the Financial Transaction Reporting Act [CAP 268] until it was replaced by The new Anti-Money Laundering and Counter-Terrorism Financing (AML&CTF) Act No. 13 of 2014.
It is a unit within the State Law Office located in the Prime Minister's Complex (next to the Reserve Bank of Vanuatu compound) and managed by the Director of the FIU.
It is a specialised Unit created as Vanuatu's national agency responsible for the receipt, analysis, assessment and dissemination of information and intelligences relating to suspected money laundering, terrorist financing and other serious criminal activities to Vanuatu law enforcement agencies as well as international law enforcement agencies.
The Unit is also tasked to regulate compliance and conduct compliance examinations of all financial institutions in Vanuatu as required by the AML&CTF.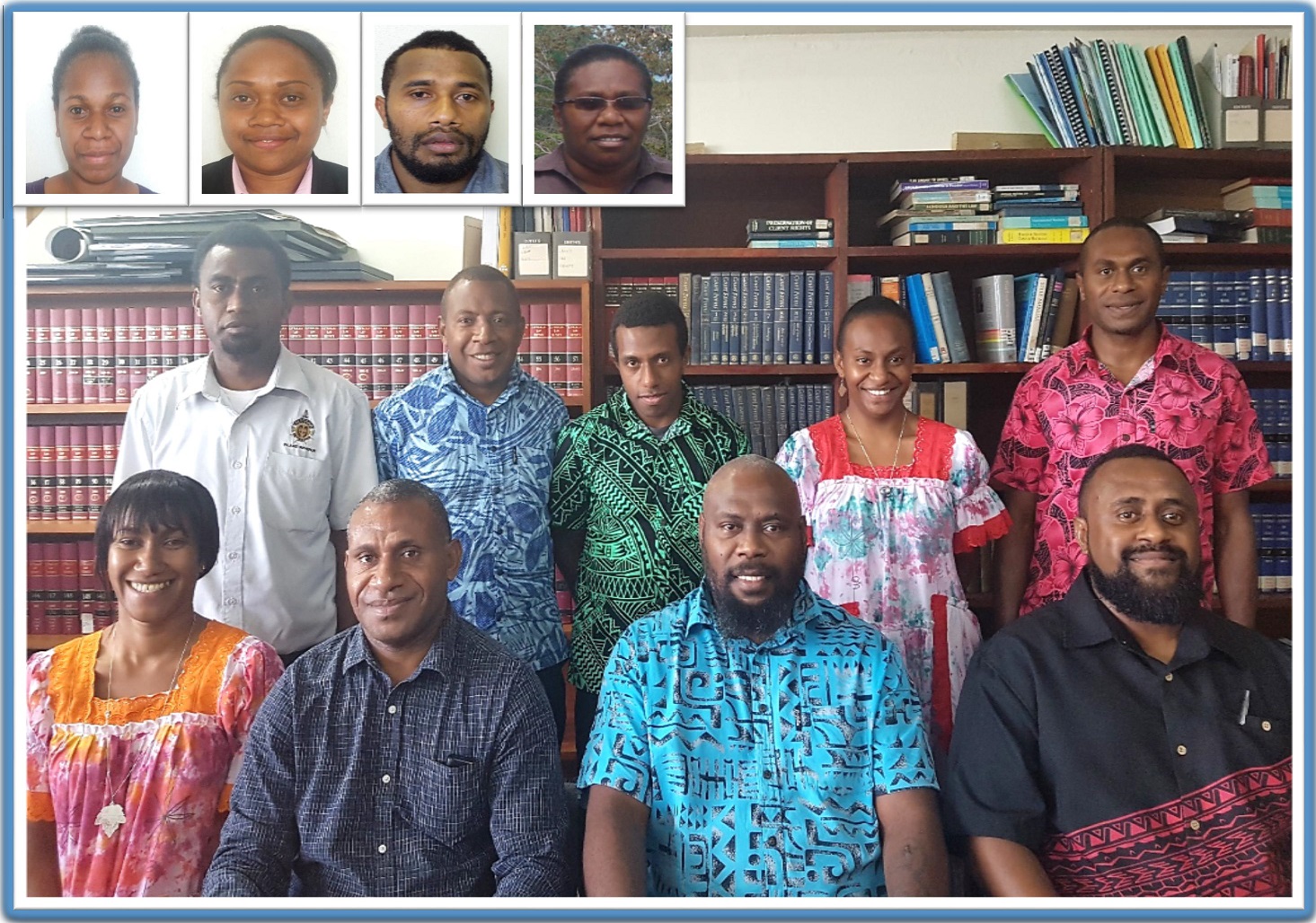 FIU team (2017): (standing, l-r): Mr. Webster BULE (Financial Analyst, Snr. VAT Officer on FIU Secondment); Mr. Whitely KENNETH (Financial Analyst, Police Constable on FIU Secondment); Mr. Mackenzie BANI (Compliance Officer); Ms. Lenisha VARI (Financial Analyst); Mr. Metson MARKSON (Compliance Officer). (sitting, l-r): Ms. Kirsty TAVOA (Snr. Compliance Officer); Mr. Josiah KUATPEN (Snr. Intelligence Officer); Mr. Floyd Ray MERA (Director); Mr. Teddy GARAE (Snr. Compliance Officer). (inset: l-r): Ms. Agnes WILLIE (Data Entry Officer, Temp.), Ms. Viniana BANI (Compliance Officer), Mr. John HUDSON MERAH (Enforcement Officer), Mrs. Kella BAHA (Data Entry Officer currently on Study Leave).
Primary Functions
Vanuatu FIU's primary functions are intelligence gathering and compliance regulation of financial institutions. The two primary roles are quite distinct but complimentary.
The intelligence function consist of receipt of reports from financial institutions, Government institutions and the public, the analysis and assessment of these reports and the dissemination of intelligence to the law enforcement agencies. The regulatory function consists of the Unit's power to examine and enforce compliance of financial institutions.
Our Objectives
To positively contribute to the combating of money laundering, financing of terrorism and other financial/economic crime in Vanuatu as well as in the Pacific and broader region.
Mission Statement
To collect, analyse and disseminate financial information and intelligence to support the detection, investigation and prosecution of money laundering, financing of terrorism and financial/economic crimes.
We embrace this mission through compliance examination, information collection, analyse and cooperation in the dissemination of information and supporting domestic and international law enforcement investigations.s